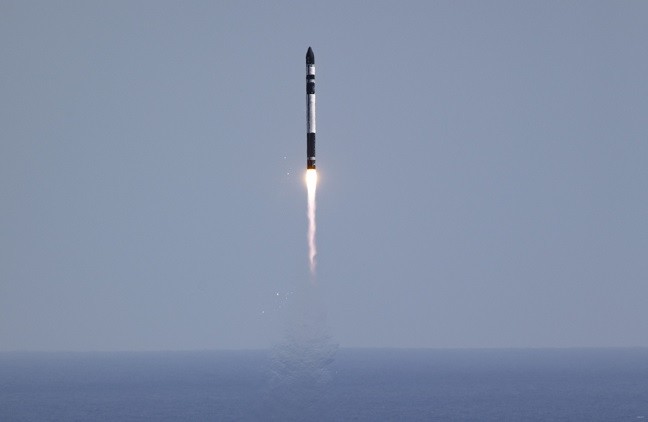 Astronomers wring hands as more small sats sent aloft
Small-sat flinger Rocket Lab beat the winds to get the mysterious National Reconnaissance Office (NRO) payload off the New Zealand launchpad this morning.
After multiple holds due to ground winds, the Electron lifted off at 02:56 UTC on 31 January from the company's Launch Complex 1 on the New Zealand Mahia Peninsula.
Dubbed "Birds of a Feather", the mission was the 11th of the company's Electron booster. While the details of the payload were light (NRO doesn't like talking too much about its toys), the launch represented the second time Rocket Lab attempted to steer the spent booster back to Earth.
The launch itself went nominally, with main engine cut-off occurring just after two minutes, 30 seconds. The first stage then separated and began its journey back home while the second stage ignited to send the payload to orbit. Rocket Labs' Kick Stage was then used to shepherd the satellite to the desired orbit.
Chief exec Peter Beck is keen on recovering those first stages and, like the previous mission, the Electron was fitted with the equipment necessary to survive a return to Earth (right up until smacking into the sea).
A reaction control system on the first stage spun the booster around 180 degrees at the six minute, 30 second mark and then maintained the correct angle of attack during the descent. A minute later, the spent booster encountered what Rocket Lab calls "The Wall" as the atmosphere became denser and the rocket decelerated from supersonic to subsonic speeds.
Beck described the aerodynamic forces involved as akin to "perching three elephants atop the Electron stack" in a chat with The Register back in August last year.
As with its predecessor, the booster made it back to Earth and disintegrated upon impact with the ocean – as planned – approximately nine minutes after launch.
Stage 1 made it all the way in again!

— Peter Beck (@Peter_J_Beck) January 31, 2020
Those hoping for a SpaceX-style propulsive landing on legs will be disappointed. Rocket Labs' plans will see the returning booster eventually equipped with a parachute and snatched by helicopter.
The gang will then recycle the things to augment the production lines should the launch frequency ramp up in the way Beck hopes. ®
Sponsored: Detecting cyber attacks as a small to medium business